Team Report
1st WBC Samurai Japan Outfield and Base-running Coach Sumio Hirota Speaks of Game with "All Euro"
3/4/2015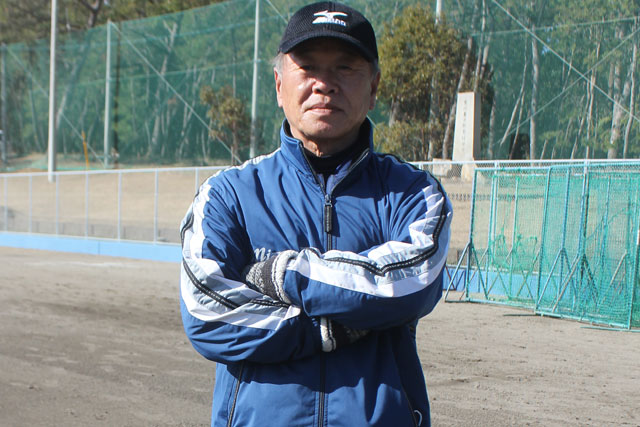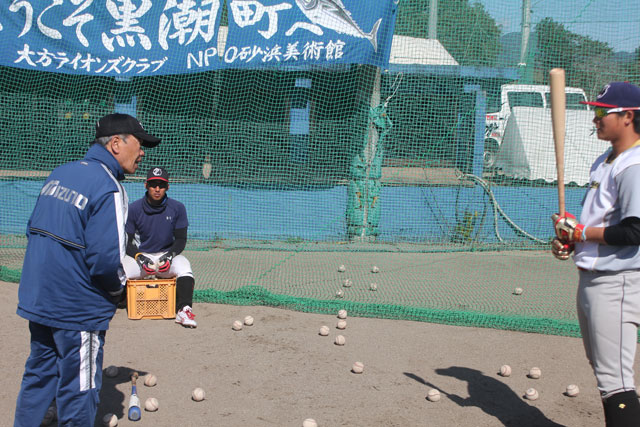 "Do you want to feel this regret again?"
Kuroshio Town, Kochi Prefecture. As a sand cloud from the Pacific blew over Ogata Stadium, a small-built gentleman gave this pep talk to the slight slackness of a young outfielder that was just one step away from entering the NPB, but failed last year. The owner of the voice was Sumio Hirosta (age 65), currently serving as the manager for the Kochi Fighting Dogs, in the independent Shikoku Island League Plus.
Those who hear and recognize this name are quite "well-versed". After graduating from Kochi High School (Kochi) and working at the Shikoku Bank, Mr. Hirota joined the Lotte Orions (currently the Chiba Lotte Marines) in 1972. He spent 12 years with Lotte and 5 years with the Hanshin Tigers, playing in 1592 games over his career, marking 1506 hits, and earning countless honors, including winning the Best Nine award for outfielder twice, and the Diamond Globe award (currently the Golden Globe award) five times running.
In the 1974 Japan Series, he batted first and fifth, with 22 times at bat, 9 hits, 7 runs batted in, and 2 home runs, leading Lotte to be the Japanese champions for the first time in 24 years, while he became MVP of the Japan Series. In 1985, he became a key player for the Hanshin Tigers becoming the Japanese champions for the first time in 21 years, as a second batter with good tricks.
Mr. Hirota also held leadership positions, as head coach, batting coach, and outfield and base-running coach for the Hanshin, Giants, and Yokohama. He was chosen for his track record as Samurai Japan's outfield and base-running coach for the first World Baseball Classic (WBC) held in 2006, contributing to their world championship.
We now asked Mr. Hirota, with his rich experience in international competitions, for his views on the "Samurai Japan vs. All Euro" game. He spoke with us on the characteristics of European players based on his coaching experience, and his "deep" views from his frontline perspective.
The European Team's Weakness is a "Lack of Precision"
The Netherlands and Italy were the European countries that played in the 1st WBC, but they were not in our field of view since they weren't scheduled to play us in the first or second rounds. At the time, we had our eyes on Puerto Rico, Venezuela, America, and Korea. (We defeated America in the secondary league) We didn't even think Mexico would be strong at first.Nine years later, the conditions surrounding baseball in Japan have greatly changed.Now, how does modern European baseball appear to Mr. Hirota, who coached two European players on the Kochi Fighting Dogs, Balboa (Pitcher from Spain) and Hanvi (Outfielder from France)?
"They have the possibility of producing a prominent talent with explosive power like Balentein (currently playing for Tokyo Yakult Swallows, 3rd WBC Netherlands national team)."
This was indeed the case. Balboa could pitch a wide variety of breaking balls, and Hanvi hit for the cycle for the first time in the Shikoku Island League Plus' 10-year history. Their explosive power astounded everyone around them when they were in their prime. But Mr. Hirota, who has personified "small ball" as a player and as a coach, indicates the risks to explosive power.
"My impression of the European players is that they do not have the precision that Japanese players do. The two players affiliated for the Kochi Fighting Dogs last year lacked precision in their pickoffs and dealing with breaking balls at bat".
This appears to apply to the "team" portion as well. Mr. Hirota told us an anecdote from the first WBC.
"During our training camp in Arizona, we went to see Mexico's practice game to obtain data, and as we watched the game on DVD, we measured the pitchers' slide step time, but the other teams didn't appear to have done the same. This Samurai Japan vs. All Euro game will probably be based on a contest of strength, but I think that eventually differences in this portion, including pitching power, will show up." Watching these two games with the understanding of someone who has plunged himself into the field of battle, he will be able to watch each pitch and hit with more depth.
Another Perspective on "Reclaiming Best in the World"
"But it could be that Samurai Japan has a hard time in their All Euro game."
This sudden statement came from the mouth of Mr. Hirota, as he analyzed the "Samurai Japan vs. All Euro" game from his perspective as first WBC outfield and base-running coach.
"Why is that?" The answer to this question revealed the perspective of Mr. Hirota, who has spent over forty years as a professional.
Because we are playing this game with no data and no planning ahead. The real challenge is the "WBSC Premier 12" in November. An important component of this is gathering data on our opponents. For instance, back when I was an NPB coach, we would gather data on foreigners in open games, and thoroughly strike at their weak points in official games. That is what we do in Japanese baseball. The fans want us to win, of course. This may be a friendly game, but we want to win to demonstrate the strength of Japan. But on the other hand, we want people to understand that these components exist. Because "data" was one of the factors that allowed us to win the first WBC, I hope that people can enjoy these two games in terms of preparation for claiming the title of best in the world in the real game.
This means that however these two games unfold, it can be seen as a part of the long story until November. Samurai Japan is moving to reclaim the world championships. The All Euro game will truly be an important game in terms of preparation to be a champion.
Latest Article