Game Report
4-3 Come-From-Behind Victory Over All Euro by Samurai Japan, with Focused Hit in Final Innings
3/10/2015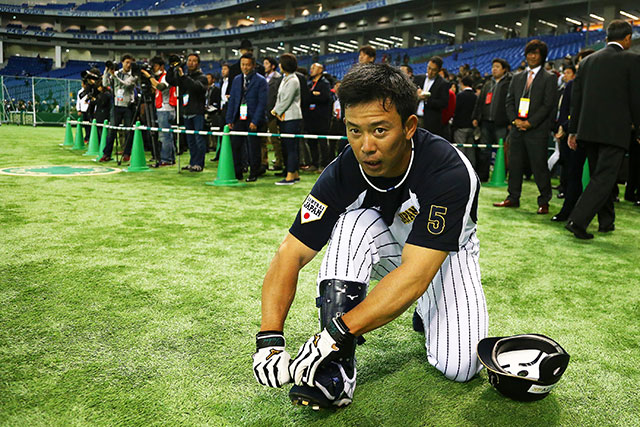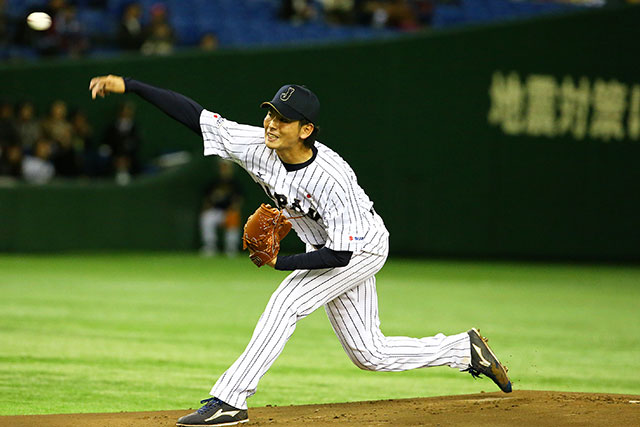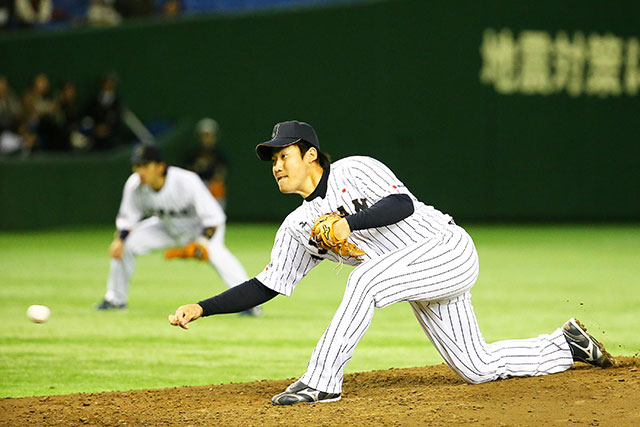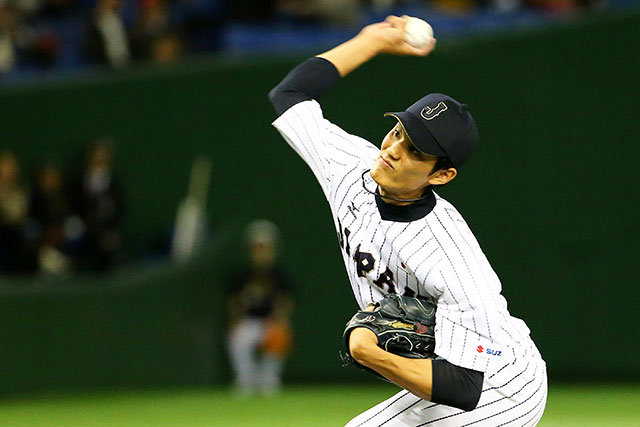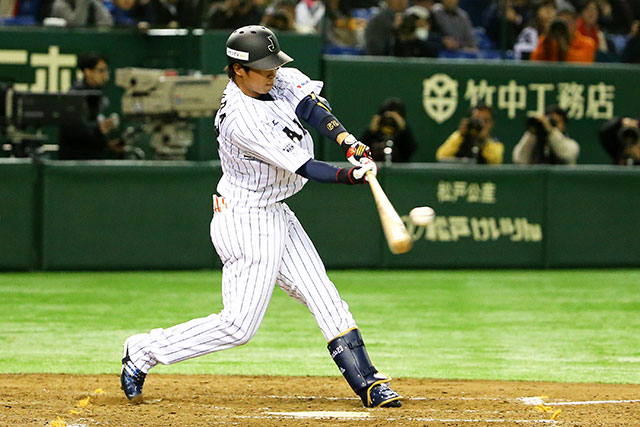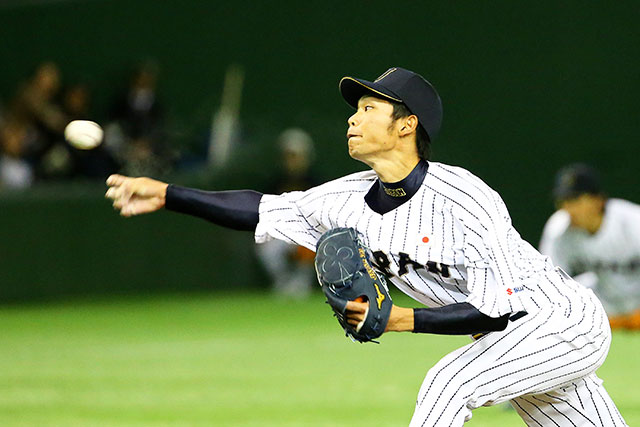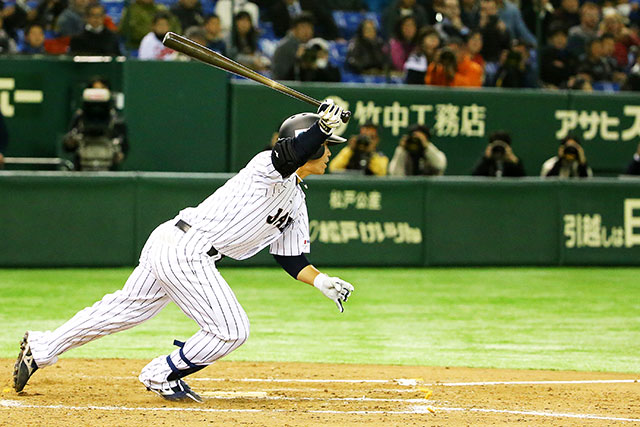 The first game of the "Hikari TV 4K GLOBAL BASEBALL MATCH 2015: Samurai Japan vs. All Euro" was held on March 10th (Tue) at Tokyo Dome, and Samurai Japan came from behind and won 4-3 against All-Euro with a streak of hits later in the game.
This game was broadcast in 51 countries worldwide and in 18 languages. Samurai Japan's starting pitcher was Daichi Ohsera (Hiroshima Carp), in his second year as a professional. He had a good tempo in the first inning with no runs allowed, but in the top of the second, Sams (Netherlands) and De Caster (Netherlands) made straight hits with no outs, allowing a runner on third, and the seventh batter Angulo's (Spain) double play grounder out to third brought the third base runner home, allowing them to pull ahead.
In the top of the fourth, the second pitcher Kazuhisa Makita (Saitama Seibu), who took the mound this inning, was immediately faced with a pinch of no outs and runners on first and second, with a hit and a hit-by-pitch, and after two outs, Angulo hit a long drive to center. The center fielder Yuhei (Tokyo Yakult) ran backwards to get it, but while the ball hit his glove he could not catch it. This became a two-run-scoring double which widened the lead to three runs.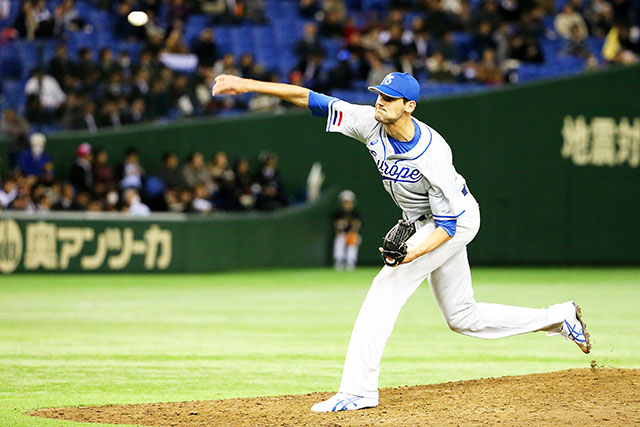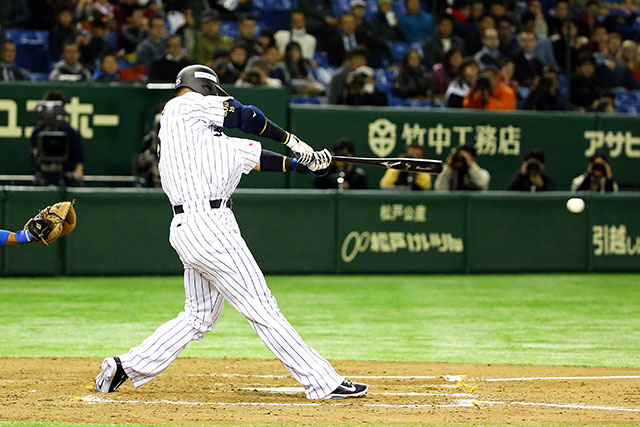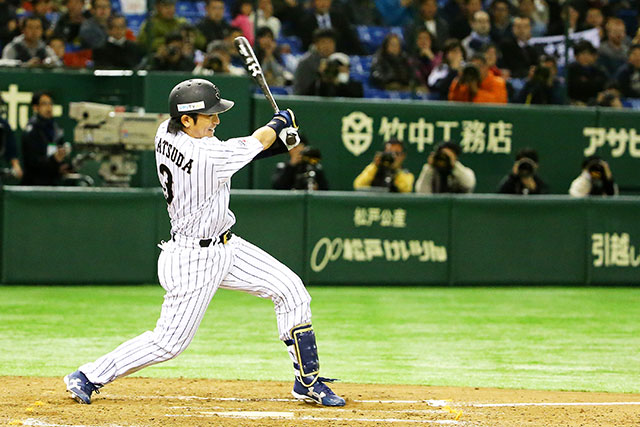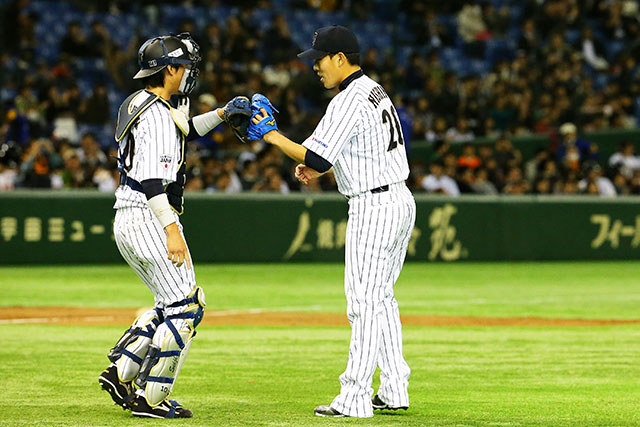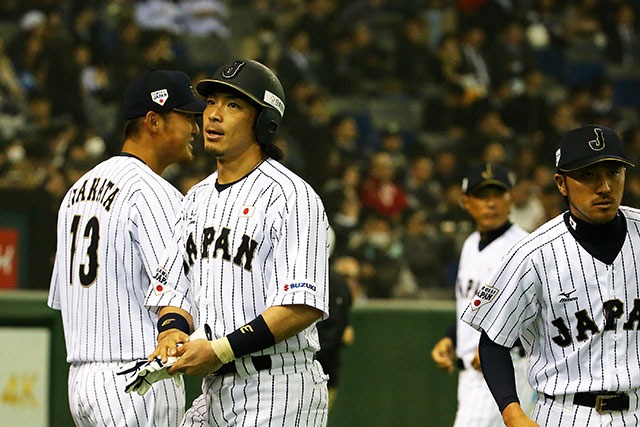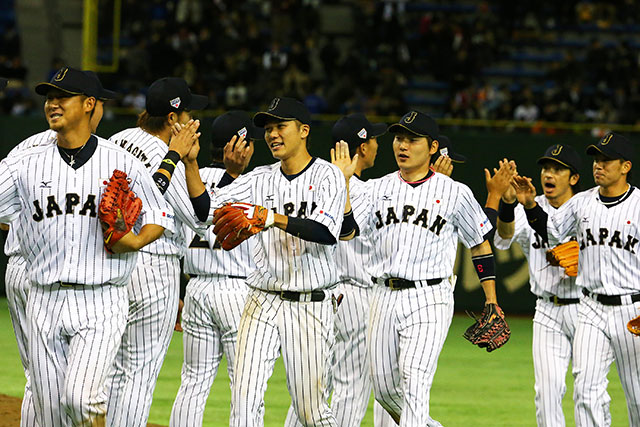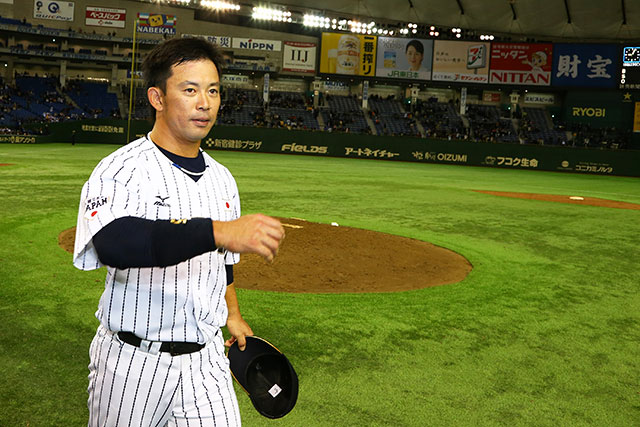 This was an unexpected turn of events for Samurai Japan, but in the bottom of the fourth with two outs, the seventh batter Yuhei (Tokyo Yakult) and the eighth batter Tetsuto Yamada (Tokyo Yakult) began their counterattack by recovering a run with two straight doubles. And as they entered the bottom of the eighth with two runs behind, Hayato Sakamoto (Yomiuri Giants) and Sho Nakata (Hokkaido Nippon-Ham) were both walked for no outs and runners on first and second, and the fifth batter, Yoshimoto Tsutsugo (Yokohama DeNA) hit a run-scoring double across the third-base line bringing them one run behind, followed by the sixth batter, Nobuhiro Matsuda (Fukuoka SoftBank), who hit the first pitch, thinking "This is an international competition, so I'll get better results if I just keep swinging, rather than looking at the ball", for a tying run-scoring hit to right. Yuhei then made a hit to center, achieving a come-from-behind with three straight run-scoring hits.
The Samurai Japan pitching line today, following Ohsera who pitched three innings with one run allowed, and Makita who pitched two innings with two runs allowed, included Ryutaro Fujinami (Hanshin) for two innings, and Katsuki Matayoshi (Chunichi) who pitched one inning, both with no runs allowed. The last pitcher, Yuji Nishino (Chiba Lotte) shut out three batters and ended the game. After the game, Manager Hiroki Kokubo analyzed the game saying, "As we had little data on the opposing pitchers, I felt a lot of difficulty in apprehending (the opposing pitchers) in as few innings as possible. The eighth inning, when we came from behind, was the first time our lead-off batter got on base. Matayoshi kept up the good flow with his perfect pitching". He then spoke of the rewards, saying, "International competitions don't let you win easily or ideally. But with the game we played today, this experience of taking our chance to come from behind at the last moment will be helpful in the future."
Meanwhile, Coach Steve Janssen of the defeated All Euro, said, "I know that Samurai Japan is strong. After the game ended, I felt once again that they are a wonderful team in every area", but also said, "We came to win. I greatly regret that we could not win despite our lead in the early innings", with a frustrated expression. Curt Smith (Netherlands), who marked three hits today, said, "I want to win tomorrow. I will give it all I have", swearing revenge in game 2 on the 11th (Wed, 6:00 PM, Tokyo Dome).
Latest Article