Team Report
17th Asian Championships Secondary Training Camp Overview
9/17/2014


Less than one week remaining until the opening of the 17th Asian Championships. A secondary training camp was help from September 12th to the 17th in the hopes of raising overall level of performance. In the five build-up games played during this camp, the team recorded 3 wins, along with 1 loss and 1 tie.
On the 12th, Japan won 2-0 over Honda.
Next day on the 13th, Japan lost 4 ? 6 to Chiba Lotte (farm club)
On the 15th, Japan won 7-0 over JX-ENEOS
On the 16th, a 2-2 tie with Toshiba
Lastly on the 17th, Japan over JFT East by a score of 11-8.
Wins and losses don't mean everything, but concerning games up to this point, manager Hirotami Kojima had this to say: 'I have thoroughly examined the right man for the right job as far as pitchers to bring out each individual's ability. I've seen each player's likely role in the five games we've played.' Still, the pitcher used most often in the tough spots to this point has been Ryota Sekiya (JR East). For JR East, he was usually given the role of starting pitcher, but in the amateur club build-up games, he often takes the mound later in the games.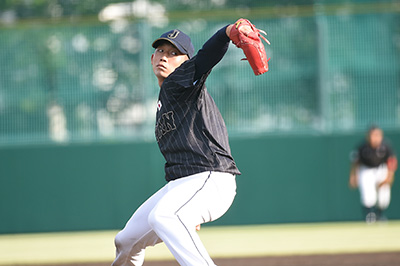 Manager Kojima said, 'Because I'm expecting so much from him, I use him in difficult situations,' concerning Sekiya, who has responded to those expectations with good pitching in the exhibition games up to this point.
In the game against Chiba Lotte on the 13th, he took the mound in the 6th inning, and showed great pitching through 2 and 1/3 innings, getting 6 strikeouts. And in the last game, against JFE East, he came to the mound in the 8th inning with 2 on and 1 out and JFE East threatening to catch up quickly, only down by 4 at 11-7. Here, JFE East's cleanup batter Komine hit an RBI to make it 11-8, but the next batter Kanamori was cut down swinging at fastballs, and 6-hole Osawa flied out to center. About finding his way out of the jam, Sekiya said 'Even though they were coming back, we had a good lead, so I just thought about taking the batters one at a time.' A man of his word, he showed steady pitching, mixing in 140-kph fastballs, crisp curves and forkballs.
Asian Championships will also likely provide several opportunities for him to take the mound in a pinch. Looking ahead to the tournament, Sekiya explained 'I don't normally get to pitch in these situations, so it's been good experience and I've gotten a sense of the preparation I'll need for the tournament. And to make sure I can play at my best level, I'll be careful to eat well and get enough sleep.' In last year's 6th East Asian Championships, there were many highly skilled Samurai pitchers, with five of them on their way to the pros, but this year, there is no super ace to be found. The key to winning their games will be how well each pitcher can perform in the roles they've been assigned.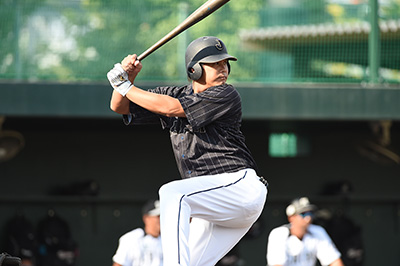 On the other hand, batting was excellent in all the games, with the Samurais racking up 26 runs in five exhibition games. Main cannon Toshiyuki Hayashi (Fuji Heavy Industries) displayed the power expected of him, with 4 RBIs including 3 huge runs in the game against JFE East. Manager Kojima expressed his confidence in Hayashi, saying 'he played a role in every game during secondary camp as well, and his level keeps getting better, so he's really reliable. When Hayashi gets a hit, the whole team rides the feeling.'
Also, leadoff hitter Shun Ishikawa (JX-ENEOS) hit a 2-run homerun in the bottom of the sixth inning. Additionally, third in the lineup and all-around infielder Issei Endo (Tokyo Gas) piled up 3 hits. Captain and second in the batting order, Yuichi Tabata (Honda) led his team to open the scoring with a hit to near right field in the first inning, and then set up Hayashi's 3-run homer with a double in the bottom of the 4th when there were two outs and no one on base. All the batters showed they were in prime form.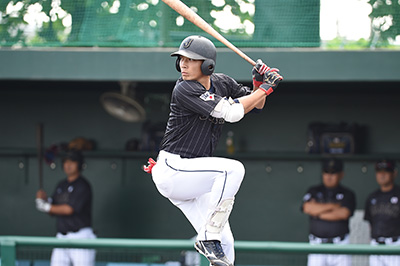 Manager Kojima's so-called 'Offense-defense key-man', Toshihiko Kuramoto (Nippon Shinyaku) got a hit in each of the games and showed his prowess on defense. In the game against JFE East, ahead only by 2 (4-2) with 2 out and runners on second and third in the bottom of the 4th, he made a brilliant play to backhand snag a hard grounder between third and short and take a one-step throw to first for the out. Manager Kojima claims there's more to see. 'Not even close. His ability is far beyond this.'
In the build-up games, batting order was switched around day-to-day so that a lot of players got their chance. The only batter unchanged was cleanup Hayashi. Manager Kojima said that he would consider the opposing team's strengths and their combination of pitchers, etc. when making decisions. It is likely that Samurai Japan will have to face Taiwan or Korea from the semi-finals on, so we will be interested to see what lineup he decides to go with.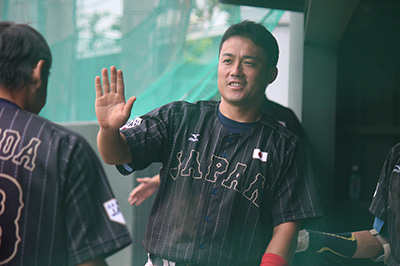 Latest Article