Team Report
17th Asian Games Preliminary Training Camp Summary
8/7/2014

The preliminary training camp for the Samurai Japan Amateur National Baseball Team players started on August 2nd and was held until the 6th. There were two goals of this first training camp. One was to get the players used to natural turf. The second was to develop a unified spirit.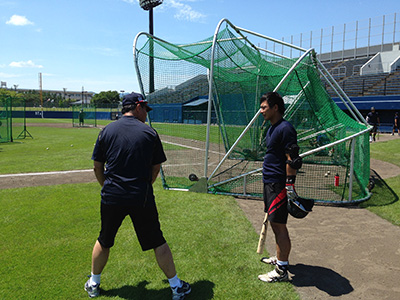 First of all, because the stadiums that will be used for the Asian Games have natural turf, the players have to become accustomed to it. For that reason, the ground used for this training camp, Yamagata Prefecture's Tsuruoka Green Stadium, with its natural grass, was perfect.
As for "unity of spirit," because the current representative team members were decided on in July, they only have a short period of a month and a half until the Asian Games open to develop into a team with espirit de corps. For that reason, manager Hirotami Kojima has not shrunk from taking the usual step of having the players sleep in a dorm and not in private rooms as is usual for amateur (non-professional corporate players) during the training camp. Even when moving around he demands they always do so as a group. There are also many players' meetings. Starting on the first day of camp, before training the players planned how to build team spirit such as with things like team meetings. They used their time efficiently.
Also, before the training camp one cause for concern was that few of the players had experience in international tournaments. From last year's 6th East Asian Games Kazumasa Yoshida (JR East Japan - Orix)、Ayumu Ishikawa(Tokyo Gas - Lotte)as well as 8 others turned pro. So many faces have changed among the team members. Even though many players have been chosen for the first time for this tournament, with each warm up match a more and more solid team is coming together.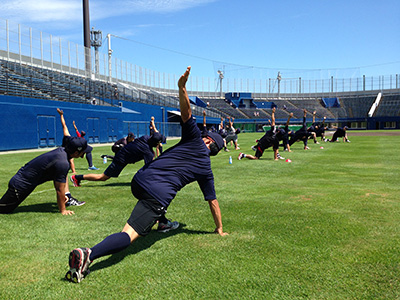 Four games were held during the first training camp. The Japan National Team Amateurs tied their first game against Kirayaka Bank 3 - 3. They won the second game against TDK 3 - 0. Next, the national team lost to JR East Touhoku 3 - 4 so they went into their last day against Yokohama DeNA with one win, one loss and one tie.
In this game, in the first inning Akira Matsumoto(JR East Japan)Masataka Iryou(JX-ENEOS)gave the team a 2 run lead. In the bottom of that inning the team gave up a point but in the top of the 7th Yuichi Tabata had a timely hit to stretch the lead to 3 - 1. However, in the bottom of the 8th Yokohama reversed the situation with three runs to make the score 3 - 4.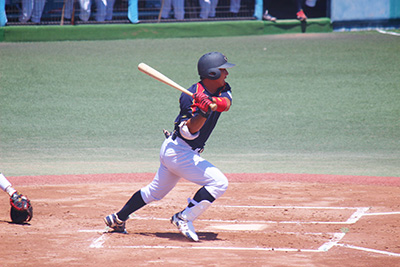 Masataka Iryou firing off the second timely hit
Even so, at the top of the 9th Ken Tanaka (Kazusa Magic) kept up the chase with a home run and tied the game 4 -4.
Manager Kojima looked back on the five days of the first training camp with these words:
"Even in this heat I drove them hard. We were able to try a lot of different things in the warm up games and have reaped some benefits. That said, because of the heat player performance has fallen a bit but I'm hoping that when September comes those things will have gotten better."
In addition, after the warm up game against Yokohama DeNA, Manager Kojima also spoke to each player directly about their problems.
"Each of you has to be concious of your faults and after returning to your own teams must work hard toward overcoming those problems. When the second training camp starts the first thing will be to check on those problems again. The next month will be very important in deciding whether we can dominate the Asian Games."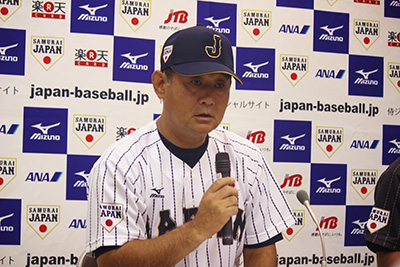 Manager Hirotami Kojima
It's being said Japan's rivals are South Korea and Taiwan. This year among the representatives from South Korea will be Chang-yong Lim (Samsung) who played in the 2009 WBC and Kwang-hyun Kim who played in the 2008 Peking Olympics and the 2009 WBC. These Korean professional baseball players have plenty of international tournament experience and are part of a dream team.
At the previous 16th Asian Games Taiwan defeated Japan and took the silver medal. They are an opponent Japan must watch carefully.
Manager Kojima gave his impressions of both teams.
"These are strong opponents, I think there's especially a difference in power with South Korea. That said, at the 2006 Asian Games in Doha even when South Korea had a lot of top level players like Seung-hwan Oh (Hanshin), we were able to win by scoring in the bottom of the 9th. If we have unity I think we can win. We've been studying how teams play in international tournaments and we've got some secret strategies for winning.
Japan has made progress in building teams in anticipation of international tournaments. Manager Kojima also said, "This year, with pitchers at the center of our strategy, we are going to compete by playing strong defensive baseball. He also told reporters that at this tournament pitchers were going to be key players.
Four players mentioned by Manager Kojima were left hander, Junichi Katayama (JR East), a youngster, Tetsu Yokota (Sega Sammy), Takayuki Katou (Kazusa Magic) and Ryouta Sekiya (JR East).
"Katayama has a lot of experience and we're expecting a lot from him. Also, we'll be in trouble if we don't get a lot of action from Yokota, Katou and Sekiya. Among those three, Sekiya has grown remarkably and his pitching technique is getting better."
On the 6th in the game against Yokohama DeNA, Sekiya took the mound in the 5th inning and struck out three batters in a row. He showed he could pitch well even against professional opponents.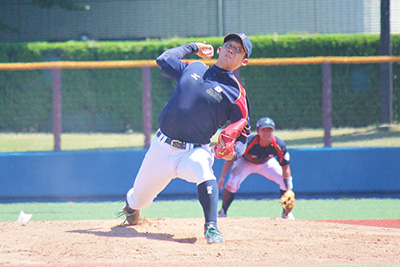 Routa Sekiya pitched well again Yokohama DeNA
That being said, in this tournament the players representing Japan will compete using a strategy of rotating pitchers. Besides the four players mentioned above, Japan needs a lot of good play from the 8 other pitchers who will appear.
Japan also hopes for a lot during this tournament from team captain Yuichi Tabata (Honda) who played in the previous 16th Asian Games and helped bring home the bronze medal.
He said, "I was able to play in the last tournament but it was disappointing to end up with the bronze. This is our chance to get revenge. South Korea and Taiwan are really strong butif we have the solidarity of good amateur players I think we can use that strength to defeat them."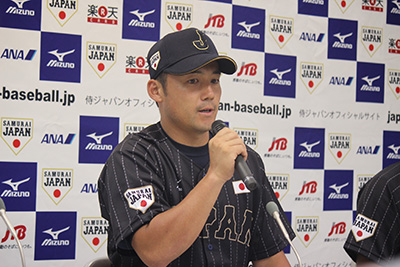 Captain Yuichi Tabata
The Samurai Japan Amateur National Team representatives 5 day primary training camp ended without any problems. The players will now use the next month to build on the results and address the problems found to improve their team.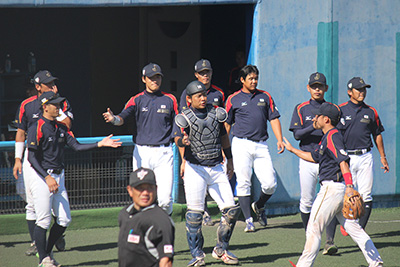 Furthermore, the Samurai Japan National Baseball Team players will take part in a secondary training camp from September 12th to 17th in Kanto and are scheduled to play a warm up match against Chiba Lotte on September 13th. The 17th Asian Games will be held in Incheon, South Korea and will open on September 21st.