Team Report
Samurai Japan National Collegiate Team warm up game action
7/3/2014

On July 2 the Samurai Japan National Collegiate Team played against the corporate sponsored non-professional powerhouse JX-ENEOS
Both teams were tense about how things were unfolding going into the 9th inning with JX-ENEOS in the lead by one run. In the bottom of the ninth, Mogi and Sakamoto got two long hits in a row which let their team catch up. Later in the 9th, with 2 outs and the bases loaded, the third batter, Yada, who started playing in the middle of the game, chose the fourth ball and drove in a run for a last inning win. As for the pitching squad, Seigi Tanaka, Hamada, Kumabara, Yamasaki Sachiya and Yamasaki Yasuaki each pitched a little at a time and relieved each other to get the job done in good order.
There was also a warm up game on the 3rd against Mitsubishi Hitachi Power Systems Yokohama.
On the fourth the team will leave for a trip to the US.
Comments from Manager Yoshinami(After the 7/2 game)
As for my expectations of the pitching squad...I want them to vary the speed of their pitches and put in some slow balls. Also, I put Tanaka into the game for the first time as a starter with high hopes and he lived up to them with his results. In tomorrow's game I'm planning on putting a pitcher on the mound who didn't pitch today.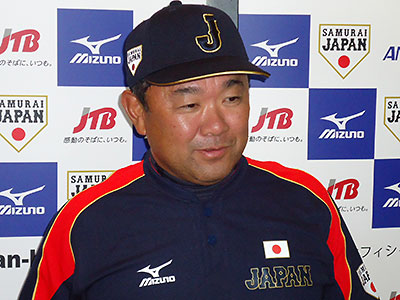 As for the batters//in the 3rd inning Muto got a timely hit. Before that there was a bunt into the foul zone so he stopped us from making a series of mistakes. That put us back in good form and was important for the whole team. Of course we're going to work hard on details like bunting.
Also, even at the collegiate league level, Muto changed his batting during the game according to the count. I thought he was a good player and he's lived up to my expectations. Yada too, did well in choosing the fourth ball to drive in a run. He was driven into a tight situation but I'm glad he recovered and was steady and chose his ball.
Comments from Seigi Tanaka(After 7/2 game)
I didn't dwell on the fact that this was my first game on the collegiate team and I'm glad I was able to pitch as usual. From now on, I want to make good use of each and every day. Today the curve balls from the bullpen were good so I think that will be effective in games against the foreign teams that we will play soon.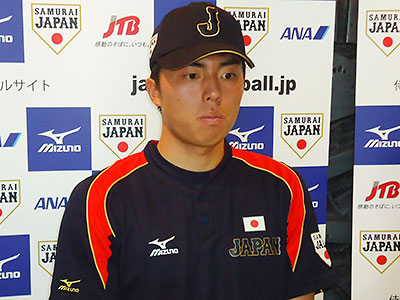 Latest Article