Team Report
8th BFA 12U Asian Championships 12U Camp Overview
8/26/2014


Training camp leading up to the 8th BFA 12U Asian Championships was held for 4 days and 3 nights starting August 23rd at the Jingu Rubber-ball Baseball ground and other Tokyo locations. The little Samurai have been gathered from all over the country as to be expected from a team looking to become champions of Asia. We went for a closer look.
Around 8am on the 24th, the players had slightly nervous expressions on their faces as they entered the stadium. Yet, as they began to focus on their warm-up, which included some slightly difficult exercises, their excess tension began to fade away.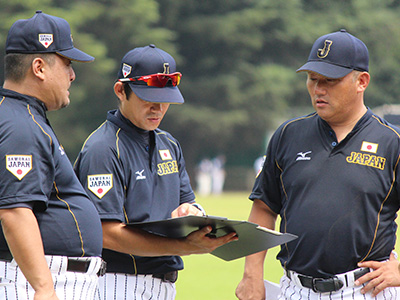 On the agenda for this day were simple fielding drills, free batting and simulated at-bats. Players who were still a little bit hesitant soon showed their natural energy as they began to actual touch the baseball. During fielding practice, right fielder Haruki Monju (Mutsuai Reds) called out with a loud voice that carried across the ground. The atmosphere on the grounds began to elevate as this small boy was able to give such lively cheers.
Tesshin Okamoto (Okanoue Tortoises) gained some attention during batting. With an authoritative posture, he calmly took up his stance. Just as hoped from this extraordinary youth, he sent big hits out flying one after another.
Although outdone by same group member Okamoto, Hyuma Araki (Omuta Eagles) gave plenty of smiles when up close. He drove out low, sharp hits with precision.
Gai Ogawara (Kazo Dream) was up next. He drew attention with his balanced body and the fast hits he continually knocked out.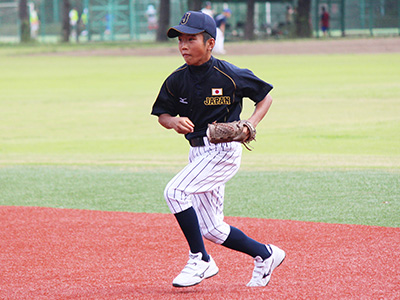 By the second day of training, the early stage hesitation was gradually replaced with looks of a confident team. In the afternoon, the players would go to Tokyo Dome to watch a pro game. Watching the pro players not only is a good way for the youngsters to learn, but also will bring them closer together as a team.
Finally the 3rd day, the 25th. There were short showers scattered throughout the day, but players were in top spirits. The isolated nerves of the previous days seemed to have disappeared completely, as smiles could be seen with a close look at their faces.
This days held in store a practice game with the Kugayama Eagles, representing Tokyo in the 34th All Japan Kids Rubber Baseball Tournament.
When manager Nishi told the players, 'Do what you individually have to do, what you're able to do, as everyone looks on you as representatives of Japan. Think smart and play hard,' all the players got into fighting mode.
With Samurai Japan in the field at the top of the inning, Naoaki Kataigi (Nakajuku Fighters) is the starting pitcher. He unveils his pitching with calm composure and firm resolve. Starting pitcher Kota Katekaru (Hirohata Condors) also stepped up with a perfectly steady posture. The calm battery seemed completely oblivious to the tension of a first game and went about controlling the game.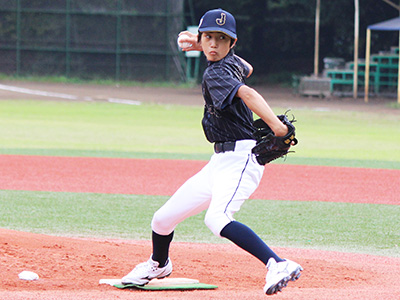 The top batter, Shunnosuke Araki (Neagari Gakudo Club), showed his perseverance in the batter's box and started the team flowing. Shunnosuke Araki's talents extended to defense as well. As shortstop in this game, he contributed to the smooth defense of his team.
Paired up with Shunnosuke Araki on shortstop was captain Yoshiki Shimura (Oasumi). He is the smallest member of the team, but when he takes up his spot in the field, he becomes a presence without bounds. His solid grabs and excellent throwing decisions mass manufactured outs for his team, while he also provided teammates with accurate directions and advice.
Switch hitter Ryuichiro Uno (Urayasu Bay Marines), second in the line-up, was the first to provide a run, with a leadoff homerun from the righty's box in his first at-bat. As a pitcher, Uno took the mound as the fourth pitcher and kept the opponents at bay.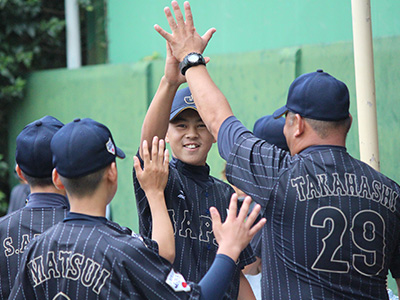 The fifth pitcher, Kazuki Masuda (Kumatori Bears), also contributed with cutting fastballs that toyed with the batters. At bat, he knocked a triple and displayed fine base running, showing that he can play high-quality baseball overall.
But the most exciting play on this day belongs to Michio Owaki (Koyama Fighters). After sitting into the batter's box and getting a hit, he goes flying, 100m in 12.4 seconds, rounding the bases and headed for home in the blink of an eye. The incredible speed left the benches and fans in a tizzy that didn't quiet for some time.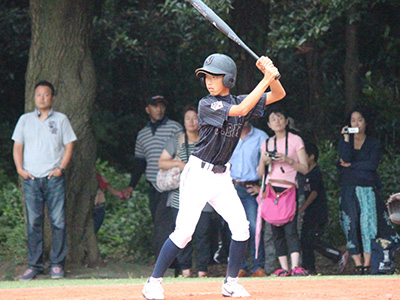 And one can't leave out the extremely active Kengo Yanagidate (Sanyu Stars). While certainly the most lively member of the team, he also has very calm decision-making and sharp eyes, making him a reliable presence on the team.
Batting in Yanagidate for an RBI was Shinnosuke Iwamoto (Wake Rubber Baseball Club). His precise batting and fielding demonstrated fine working capability.
Batting 3rd was Masayoshi Yamada (Little Giants). Along with solid play on defense, his precise batting shouldn't be missed. In the sixth inning, he hit a home run, bringing smiles to the faces on the bench.
Samurai Japan, looking to close out a shut-out victory, so up to the mound comes Kensei Matsui (Kazo Dream). The pressure must have been intense, but he pitched without a whiff of alarm.
Ultimately, they won this game 15 to 0. Samurai Japan showed their stuff as Japan's team and have some momentum moving into the tournament. After the game, the Samurais practiced until a bit after 1pm and then attended a parade held in Odaiba during the evening. They received applause and cheers from fans other than the usual family, friends and team organizers, giving the young players a solemn reminder of their status of representatives on Japan's team.
Following the parade, official partner RakutenCard Co., Ltd. held a dinner at Rakuten Tower 2 in Shinagawa. Senior Executive Officer Masayuki Hosaka offered his encouragement: 'I was moved by everyone, fighting hard to become best in the world. We want to support you, so that through sports, dreams can come true. Certainly we hope that you aim to become champions, but first and foremost, we hope you can back without injury, safe and sound.'
With full bodies and hearts, the 12U Samurai Japan representatives head off to play in the Philippines. The first 'Asian Champion' for this age group. The fight to earn that title will be from the 27th to the 31st.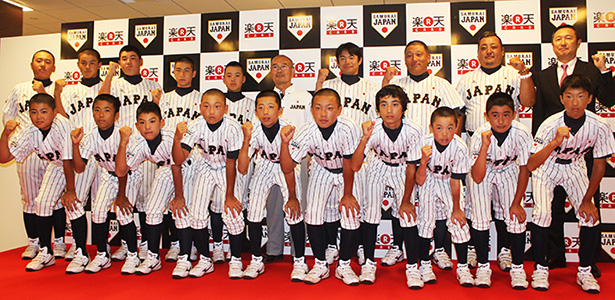 8th BFA 12U Asian Championships 12U Players
8th BFA 12U Asian Championships
Latest Article