Roster Announced
Toshihisa Nishi takes up post as 12U National Team manager - Holds "All Japan Combined Tryouts" on the internet
6/24/2014

Toshihisa Nishi has been chosen as the manager of the Samurai Japan 12U National Team which will participate in the 8th BFA 12U Asian Baseball Championship to be held starting August 27 (Wednesday), 2012 in the Philippines.
Also, as an experiment, for the first time representative player tryouts targeting youngsters from all of Japan will be held on the internet.
This plan is called the "Samurai Japan 12U All Japan Combined Tryout Digital Challenge." Manager Nishi as well as others think, "We'd like to find the potential in as many young baseball players as possible. We want those who sweat each and every day while putting in their best efforts." The team management are putting into effect an initiative that has never been tried before.
Elementary school students who want to join the Samurai Japan 12U National Team should shoot a video of themselves playing using a smartphone or etc. Then, they should submit their videos on a specially set up page of the Samurai Japan website to enter for selection to become a national team player.
After the above public application process, the player must get a recommendation from their prefectural chapter of the Japan Softball Baseball Association, Public Interest Incorporated Foundation(JSBB) to become candidate players. Then, after passing the selection committee, 15 players will finally be chosen to compete in the 8th BFA 12U Asian Baseball Championship
About the Samurai Japan 12U National Team manager(Profile of Toshihisa Nishi)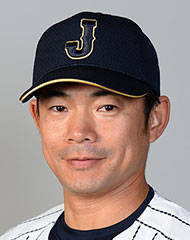 Birthday
October 4, 1971
Brief Baseball Resume
Joso Gakuin High School - Waseda University - Nippon Life Insurance Company
Yomiuri Giants(1996 - 2006)
Yokohama BayStars(2007 - 2009)
Lancaster Barnstormers(2010)
*American Independent League
Samurai Japan Top National Team Infield Defense - Baserunning Coach(2013)
Comments from Toshihisa Nishi
The team I belonged to when I was a child played hard rubber baseball so it brings back a lot of memories. Also, putting on the Samurai Japan uniform to fight against the world makes me excited and gives me a lot of motivation. We're going to select the best players out of over 300,000 Japanese young people playing baseball and stand at the top of Asia.
We're trying this for the first time as a test. It gives every young baseball player the chance to become a Samurai Japan National Team member. Be sure to show us the results of how hard you work every day.
About the "Samurai Japan 12U All Japan Combined Tryout Digital Challenge"
Summary
Players for the 8th BFA 12U Asian Baseball Championship will be recruited online. Record yourself playing and submit an application form. If the video passes the judging, the applicant could end up being selected as a player on the Samurai Japan 12U National Team.
Eligible recruits
Players on a team registered with the Japan Softball Baseball Association, Public Interest Incorporated Foundation
Japanese citizens 12 and under who fulfill at least one of the following conditions:
(1)Able to run 50m in 7.3 seconds or less
(2)Able to throw a ball 115km/h or faster
(3)Able to throw a ball 70m or farther
(4)Having any other special skill worth mentioning
*Examples of things that would fall under(4)would be having a batting average of .500 and up, an outstanding leaping ability or etc
Application method
Application method found here
Samurai Japan 12U All Japan Combined Tryout Digital Challenge
Application period
June 24(Tuesday)10am - July 15(Tuesday)7:59pm
About the 8th BFA 12U Asian Baseball Championship
Main sponsor
Baseball Federation of Asia(BFA),Philippine Amateur Baseball Association(PABA)
Tournament period
August 27(Wednesday)- August 31(Sunday)
Type of ball
Hard rubber
Participants
6 Teams(Japan, South Korea, Chinese Taipei, The Philippines, Indonesia and Singapore)
Stadium
Rizal Memorial Stadium(Manila, The Philippines)
Tournament System
6 Teams Single Round - Round Robin
Japan game schedule
August 27(Wednesday) 8:30am vs Indonesia
August 28(Thursday) 11:00am vs The Philippines
August 29(Friday) 11:00am vs Singapore
August 30(Saturday) 2pm vs South Korea
August 31(Sunday) 2pm vs Chinese Taipei
*Times are local time
Latest Article